How can I improve FlipFolio's load time? I have a lot of images
There are a couple of factors that determine load speed and performance. A slow internet connection can cause the images to load slowly but more importantly, the images you use need to be properly compressed or optimized.
An unoptimized image can easily be around 3MB in size. If a slow internet connection can only download around 0.1MB per second, it would take almost half a minute just to get a single image to display. A good rule of thumb is to use compressed JPEG images that are 50kb – 200kb (0.05MB – 0.2MB) in size. If you used a FlipFolio widget with 30 pages the total size would only be 1.5MB to 6MB. The same widget using unoptimized images could be 50-100MB in size, which would take quite some time to load even with a fast connection.
To check the file size and dimensions of your images:
Open the file where the image is saved.
Place your cursor over the image icon, and right-click if you are using a PC or Ctrl-click if you are using a Mac.
Choose Properties.
Click the Details tab.
Scroll down to the:
Image section –  To view the image dimensions.
File section – To view the image file size.
If you need to compress your images and do not have an image editing program you can use the free online tool at the link below to compress and change the dimensions of your images.
http://www.imageoptimizer.net/Pages/Home.aspx
Sometimes just reducing the dimensions of the image is enough to make the image file size small enough.  I would set the max width of your images to 960px (This is the max size of the content area in Wix, therefore images will never need to be larger than 960px wide).
How do I make it so FlipFolio shows a front and back cover?
This is actually one of the "Frame Theme" options. You can find it in the Settings menu for FlipFolio under the "FlipFolio Styling" section.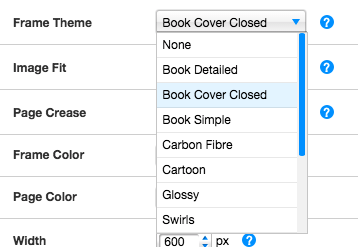 This will turn your first and last pages into a front and back cover to the book.
Tutorial: Add a download pdf link
If you would like to add a link that allows your visitors to download a pdf copy of your book, I would suggest adding text to your page and creating a link from it (step 1 in the screenshot below). You can then use the "Document" option to add a PDF for your users to download.
Tutorial: How do I add documents instead of images?

You are able to use documents, but before you can upload them they need to be converted to an image format. You can use the free online tool below to convert your (pdf, doc, docx, rtf, html, txt, xls, xlsx, csv) documents to images.  
Just select your file format from the dropdown menu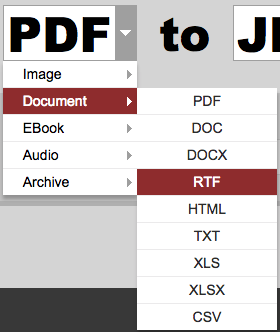 And then select JPG as an output format.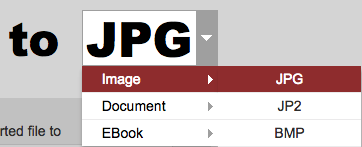 Additional tools for converting documents to images:
After converting your documents to images we recommend you check out the FAQ "How do I create side by side images for a book look, like the ones in the demo?"
If you have a PDF file that is very large you can have the pages all separated and kept in order using this too: http://www.splitpdf.com/.
Tutorial: How do I create side by side images for a book-like look, like the ones in the demo?
[This page was created from two combined images of a menu]
You can use a free online tool (Link Below) to create side by side images or even images on top of each other for the calendar style layout. 
Quick Picture Tools – Combine Images
How to use Quick Picture Tools to join two images into one:
Open Quick Picture Tools in your browser. You'll see a blank window, with various options below it.
Click the Add button in the first box (top left) and select the image you want to use for the left page. 

Click the Add button in the second box (top right) and select the image you want to use for the right page. If you are creating a calendar style book click the Add button in the third box (bottom left).

Now you should be looking at two side-by-side images. If they're roughly the same size, you're in good shape. If either one is on the large side, though, you should click the zoom selector and choose 25 or 50 percent. That should allow you to at least preview them side by side.

If necessary, change the values in the Width and Height fields so your two images are roughly the same.

If you want extra white space between your images, use the Padding tool. You can click and hold the up arrow until you get the space you want, or just manually enter a value. Likewise, the Margin tool will add a border around the outside edge.

Want to add text? Type some words into one of the fields below the Add Image tools. A preview will appear instantly, and you can drag and drop it in whatever position you want. You can modify the color, font, and size as well.

Choose your desired output format (JPEG or PNG), then click Generate Image. In the Save As box that appears give the new image a name and save it.
What browsers are supported?
FlipFolio is supported in all major browsers. IE8+, Firefox, Chrome, Safari, iOS Safari, Android Browsers, Chrome for Android. IE versions 9 and under do not support the 3D animations but FlipFolio will still be functional.
Why can't fullscreen mode be larger and why is it disabled for mobile screens?
Unfortunately, Wix created websites are not yet fully responsive and have set maximum widths for desktop (960 pixels or px) and mobile (somewhere around 320px). For desktop screens the fullscreen toggle opens up at it's max width of 960px. For mobile, FlipFolio is automatically set to its max width. If the toggle was enabled it would only open up at the exact same size.
I do think Wix intends to move toward fully responsive sites in the future and once they do we will be able to update FlipFolio. For the time being I would suggest prompting your users to rotate their devices into landscape mode. You will notice in the mobile landscape screenshot below, FlipFolio fills most of the space the small screen provides and there is not much room for it to get any larger without it going off the screen.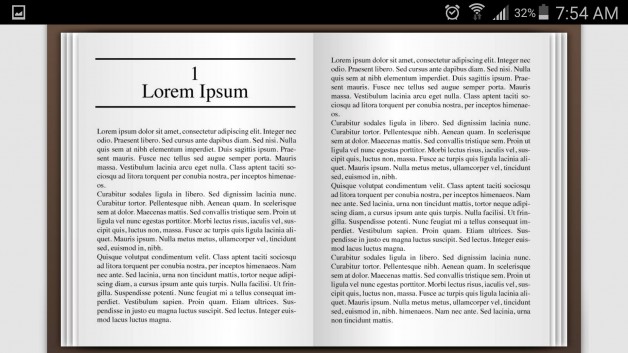 Why doesn't PaperTemple handle billing?
PaperTemple is a team of developers who build widgets for Wix's app market. Unfortunately, we do not handle any of the billing/subscriptions and only provide support and updates for the widget.
If you have any questions about billing please visit Wix at the link below.